The Text Message Monster – Love it, Hate it, Deal with it!
This story actually began at the Safeway's daily counter when I was ordering some cold cuts…so how do we end up with the text messaging? Let me explain.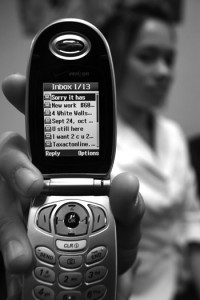 First of all, I am going to be brutally honest and say that I am not a text message fan. I never was and probably never will be. However I do understand that the so called young generation with tattoos, piercings and smart phones have embraced yet another excuse that prevents them from actually speaking to each other but at the same time keeps them in touch.
Text messaging didn't just happen today and I am sure many of you use it, love it and embrace it. The thing I am wondering when it comes to the text messaging is what's going to happen to simple communication (verbal) skills especially in the workplace.
So going back to what happened to me: I came to a daily counter asking young man to give me 300gm of sliced pastrami (which is not the shaved stuff they usually have in the fridge on display). He looked at me then proceeded to pick up the shaved meat that's already been cut. I told him again that I was looking for sliced not the shaved meat. He looked at me like I was an alien, didn't say anything and then proceeded to pick up that same shaved meat. This is been going on for the last 5-6 weeks with different people behind the daily counter. Every time I see new face there I am thinking-  here we go again…everyone who is behind me waiting for their turn going to think that I am some "crazy sliced meat obsessed guy".
It's a good thing that manager was just passing by. She explained to me that he was new and proceeded to help me.
I ended up chatting with the manager about high turnover and absenteeism problem.  She told me that "young people just don't want to work today" but they still hire anyone who has a pulse (that was the actual criteria that she used). Since this is what I help companies with on a daily basis I was very interested.
My biggest comment for her was – "it's ok that a new employee didn't know everything but what makes me wonder is the fact that he (or any other person that didn't know sliced from shaved) didn't bother asking me to be more specific or at least initiate conversation about it." Everyone's reaction was usually to just wander around the counter like I was asking for a snow on the hot summer day.
I am thinking if that was me I'd be saying – "excuse me sir, I am actually new, this is my second day (or week), I am not quite sure what you mean by the "sliced". I'd be happy to help you if you can just explain it to me, I hope you don't mind".
How difficult would that be? Not really hard, but it involves some basic communication skills and ability to manage the situation.
Here is what this lady told me: Beside the constant turnover of young people (early 20's) in their department she found that new employees who have embraced the text messaging monster really lack the ability to communicate verbally and often have difficulty to comprehend information via listening – it has to be ether text message or email.
You can probably guess what kind of impact this is going to have on the customer service that has tremendously gone down all across North America. And it's not going to get any better.
Verbal and Communications Skills are going to be something that employers will have to keep a good eye on when hiring new people and training existing employees.
We've been recommending a number of tools that we use and there are lot's of others that are available on the market. What you use will depend on the time you are willing to spend on the internet searching.
If you do nothing, the text messaging monster will eventually eat at your profits as your customers stop coming back.
Don't let it happen to your business.