Hiring and Trusting the Right Babysitter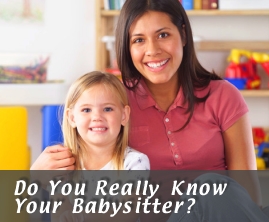 Parents are quite often confronted with difficult challenges in finding and choosing trusted babysitters.
This is a serious concern for mothers re-entering the work force. Trusting another person, often a total stranger, with caring for your child can be one of the most stressful parts of parenthood.
Some people may need a babysitter only occasionally, while others need to trust in one when they are at work several days a week.
For a parent to find a trusted babysitter is more important – after all, the well-being of a child is on the line – than for an employer to find a trusted employee. But the process should be no different. The trust factor has to be assessed and measured using scientific tools, not just based on intuition.  
Most people don't have much experience with interviewing job-seekers. So they likely don't have the skills, knowledge or tools to help in the decision-making process.
Few people are aware that companies have been using hiring assessments, i.e., tests that determine a candidate's job suitability, for a long time. In today's technological age, hiring assessments have been transformed from paper to the easy-to-use online platform, allowing employers to administer testing remotely or in the office. Results turnaround is instant upon test completion and comes directly to the email inbox.
And most people don't know they can take advantage of the technology for hiring babysitters. Canada Human Resources Centre has affordable tests available to the public. The price of one test is $35, very reasonable even for a family with a limited budget. Considering the money is spent on due diligence for hiring someone who is going to care for a child, the cost of a test becomes an investment in reassurance and security.
Here are five helpful tips that will assist parents in finding a trusted babysitter:
1. Interview several candidates, to see what your options are and to gain some experience in the interview process.
2. Call every reference (at least 2-3 of them) of the person you want to hire. Keep in mind most people don't like to give negative feedback.
3. Use hiring tests such as the Job Lie Detector Test and/or Care Provider Job Fit Personality Test to determine if your prospect is trustworthy and has the right qualities.
4. Prepare a list of expected duties and other things you think are important. Use the Job Interview Guide, written by Gary Birshtein, to assist you in the interview process.
5. Install a wireless camera that you can watch from your smart phone and record on your computer's hard drive.