Employee Engagement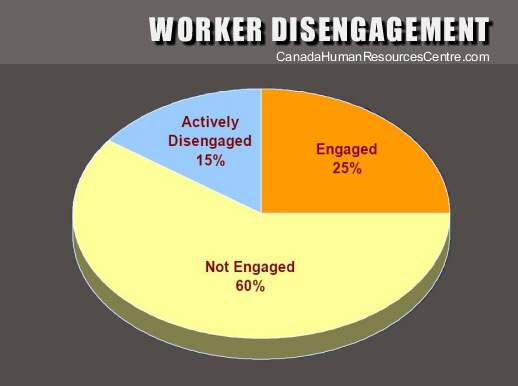 The statistics on employee engagement are shocking.
The Management Journal's semi-annual Employee Engagement Index reports that 60% of employees are not engaged, and 15% are actively disengaged at work and only 25% are actively engaged.
What does this mean to Canadian businesses?
The impact of employee engagement (or disengagement) is a bottom line issue. Statistics show that unhappy workers cost the North American business economy well over $350 billion annually in lost productivity!
In today's aggressive business environment remaining competitive is "top of mind" for most executives. To remain competitive, you have to hire truly talented people and then you have to keep them. Turnover is not only costly in terms of replacement expense; it's not productive, and it's demoralizing to other team members when they see good people leaving the organization.
Employee Engagement Survey

Employee Engagement is the level of commitment an employee has towards the organization. The primary behaviors of engaged employees are: speaking positively about the organization to coworkers, potential employees and customers, having a strong desire to be a member of the organization, and exerting extra effort to contribute to the organization's success. 
Our Employee Engagement Survey system allows you to survey the opinions of your staff while targeting the management topics most important to your organization.
For more information about Employee Engagement, call Canada Human Resources Centre at 1.888.654.0709 or complete Contact Us form.
Research shows:
Employers who think their people leave for more money: 89%,
Employees who actually do leave for more money: 12%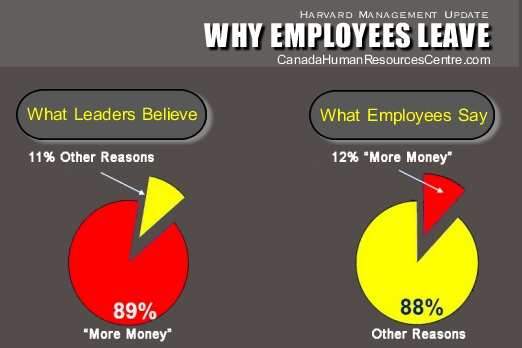 What a disconnect! That's the results of 19,700 interviews completed by the Saratoga Institute. Maybe it is easier for managers to think that money is the real issue, rather than hear that there are things that need to be fixed. But, the truth is, there are things that can be done to keep employees happy and productive, and on the job.
To find out what are "The Ten Most Frequently Mentioned Issues That Employees Say Companies Do Poorly"click on the link here >>

Disengaged employees aren't born that way. They're created by ineffective, badly trained managers and lack of strong human resource management within corporations.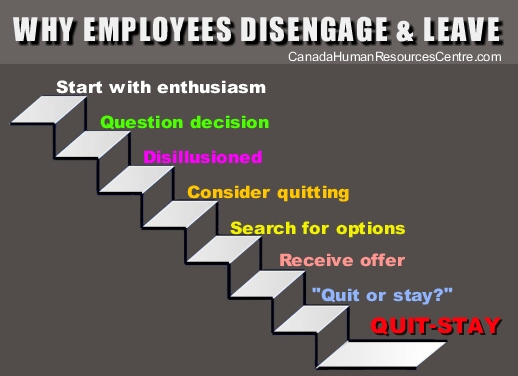 It's costing businesses a fortune in lost productivity and revenue. Much of the blame is being placed on the shoulders of ineffectual human resources management and managers.
Many managers themselves do not know what it takes to succeed in a particular role nor do they have an incentive to care. More often than not, the focus and emphasis of the H/R department is "putting out fires."
For the average manager, the bulk of a workday is spent working with employees who are negative, completely disengaged and should be terminated because they shouldn't have been hired in the first place.
Instead of matching the right employee to the right position for long-term success, most companies and H/R departments put the emphasis on simply filling the position as quickly as possible. As a result, businesses are losing money as fast as they're losing employees. Each staff turnover cuts into the bottom line.
For more information about Employee Engagement, call Canada Human Resources Centre at 1.888.654.0709 or complete Contact Us form.
To learn more about Assessments click here>>