Job Interview Guide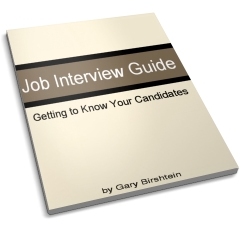 Getting to Know Your Candidates
The setup: Breaking the Ice
When you meet applicants, try your best to make them comfortable, using a friendly but professional attitude. Make sure to thank the applicant for his or her interest in the advertised position.
"By the way, was there anything in particular that interested you in this position (job ad)?
That can be a good first question to start a dialogue. Starting your question with "By the way …", "How about …" and "I was curious about …" makes it sound less intimidating and almost unimportant. Use this technique, and the applicant may provide you with a lot more information than you've anticipated.
Try to think about interview as a "getting to know you" meeting. Many candidates feel stressed and intimidated before and during an interview. If you can put them at ease during the first 5-10 minutes, your time with them will be a lot more productive. Read more >>