Careers
Growth, Excitement, Meaningful Work…Success!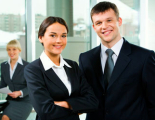 We're excited that you are considering Canada Human Resources Centre for your career!
We are always looking for talented and career-minded individuals to join our rapidly growing team.
In return for your talents and skills, Canada Human Resources Centre offers you growth, excitement and truly meaningful work. Did you know that Canada Human Resources Centre empowers customers to make smarter decisions? Our employees do this by delivering dependable, timely and quality information that is infused with insight and expertise. Our clients rely on us for the information and processes they need to reduce the risk they face in their organization and to help maximize their performance.
Our employees are truly our "human resource" when it comes to delivering best-in-class service and solutions for our customers. When you join our company, you will play an important role in helping our clients.
At Canada Human Resources Centre, we define our corporate values around individual empowerment, integrity and responsiveness as we seek to build trust and strive for excellence in our teams and with our customers.
Join Canada Human Resources Centre and become part of our team!
Apply Today: